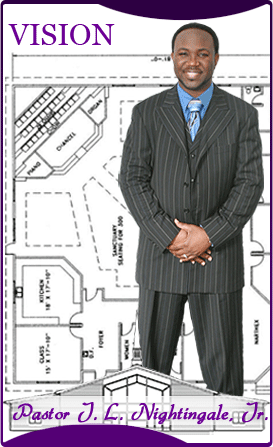 Sunday Morning
Sunday School 9am
Prayer 10:00 am
Praise and Worship 10:30 am
Wednesday Night
Prayer 6:00 pm
Bible Study 7:00 pm
Friday Night
Prayer 6:00 pm
Deliverance Service 7:00 pm (1st Friday Only)



Guiding Light Ministries was incorporated in the state of Florida on January 2, 2003. It consisted of the following members: Pastor Jessie L. Nightingale Jr., Lady Terri C. Nightingale, Jordan B. Nightingale, Taylor A. Nightingale, Daniel C. Nightingale, Netia Haywood, and Tarik A. Lawson. The corporation status of GLMI can be viewed on www.sunbiz.org which is a free website provided by the state of Florida for the status of all corporations.


The first service was held on Easter Sunday, April 20, 2003 at the Lane Avenue Days Inn Hotel with approximately 45 people in attendance that day.


On Sunday morning July 26, 2003 the leaders of GLMI held a business meeting to establish the financial goals and needs of the church at the future home of Guiding Light Ministries, Inc. located at 7029 Commonwealth Avenue Suite #2, Jacksonville, Florida 32220. It was on that morning that God confirmed to His people to make the move to their first building. Pastor presented a two phase vision to the church that had an estimated cost of $15,000 for phase one. The meeting was held in our first building which we were claiming by faith. Our membership at that time consisted mostly of high school and college students. We also had a few faithful supporters.


Our first church service in the new building was held on September 21, 2003. We toiled night and day to prepare this once known office/warehouse into a sanctuary of praise for Jesus.


In the first quarter of 2004, we recieved our 501(c)3 or tax exempt determination letter from the IRS. This status placed GLMI in IRS publication 78 which contains all IRS recognized charitable and tax exempt organizations. From the time of GLMI's inception, all donations given to GLMI were recognized by IRS as legitimate tax deductions.


In mid May of 2004, Pastor Nightingale proclaimed that the Lord had led him to place our ministry under the covering of Overseer Jean Dimmock. This proclamation brought great joy, love and unity to both GLMI and Blessed Assurance Ministries.


In the month of June in 2004, we hosted our first Leadership Conference. The purpose of this Holy Ghost filled conference was for members to identify and position themselves for servant-hood in ministry. There were several seminars held to the theme of Servant-hood. These seminars were divided by church auxiliaries. Such seminars included topics for ushers, alter workers, ministries of help, deacons, church administrators and ministers/evangelists class. The seminars were very successful and included members and instructors from other churches.


In the month of January in 2005, we hosted our second Leadership Conference at the Holiday Inn on Airport road. The purpose of this conference was to share information about IRS/501(c)3 for churches. This was also another opportunity for the leadership of GLMI to receive additional ministry training.


During Celebration Weekend 2005, we held our first leader's appreciation service at Sawgrass. This was a tremendous blessing to our Pastor & First Lady.


In May of 2009, God blessed us to move to a larger facility consisting of two suites in the same office building. The ministry still resides in this building today at 7029 Commonwealth Ave Suites #8 & #9, Jacksonville, FL 32220.


On September 11, 2009 during the annual Celebration Weekend, the GLMI Choir recorded their first live gospel album entitled "God Can" with Gospel recording artist Jermia Cannon. The live recording also featured an appearance by gospel recording artist and Sunday Best Season #1 Winner Crystal Aikin. The album was officially released in May of 2010. It is being sold on iTunes, CDbaby.com, Amazon, and many other online distribution stores. It is also available in the GLMI online bookstore which was launched in August of 2010.


On September 11, 2010 during the annual Celebration Weekend, we had our first midnight musical to push the release of the new "God Can" CD. For this event, GLMI brought in the gospel industry's best kept secret gospel recording artist Jermia Cannon and gospel recording artist/Sunday Best Season #3 Winner Le'Andria Johnson, and a host of local talented artists.